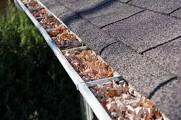 As temperatures get ready to feel like winter there's several things homeowners should remember to take care of on the outside of their home.
1. Disconnect all hose's from outdoor spigots. If water is in a hose line and freezes all the way back into your spigot, there's a good chance you're in for a rude awakening! Remember that water expands when it's frozen which copper lines will ultimately spring a leak.
2. Clean out your gutters, downspouts, and all downspout extensions. Most leaves have fallen so now should be a good time to clean those gutters out before they have snow in them! If water can't drain properly through your gutters and downspouts you're now at risk for sitting water to freeze. Clean gutters and downspouts prevent overflow from heavy rain or snow thawing and potential water damage to the wood behind the gutter. If you're able to walk on your roof and have a leaf blower, this is by far the easiest way to take care of your gutters. Use a hose from above to clear your downspouts. If you don't like ladders or are scared of heights now's the time to call a professional to get this scheduled. Moisture can be a homes worst enemy so keep water flowing away from your foundation at all times.
3. Check all exterior doors and the weather stripping. Signs that you need to replace it: 1. you can see daylight around your door when standing inside. 2. you can feel air coming in. Run your hand along the border of your door from the inside. This may be obvious, but the cooler the outside temperature the easier it will be to feel. This is a very easy project for someone with little or no experience. Weather stripping can be bought at any home improvment store and easy to cut with normal scissors. Its self adhesive or may have a grove to slide into. All you need is to cut the correct length and you can use the old piece to get a measurement.
Happy Holidays everyone!